Olrig is of local historical significance for its association with James Malcolm, a prominent local settler from the 1840's, after emigrating from Scotland in 1836.
Olrig is a former mid-nineteen century pastoral and farming complex at Craigieburn.
Most significant to our school grounds is the original bluestone Olrig homestead, built around the eighteen seventies by the son of Craigieburn's prominent local settler, James Malcolm. Olrig comprised a bluestone house, gardens, outbuildings, and various landscape elements. The associated landholding was originally very substantial (originally in the order of 2350 acres).  The property has been progressively reduced and subdivided to the extent that the current holding extends for 4.7 hectares.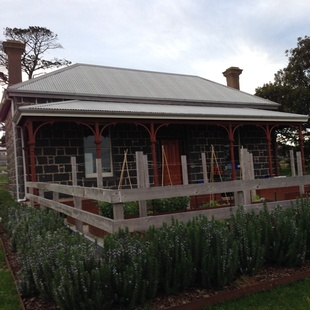 Statement of Significance
The following statement of significance has been drawn from a Conservation Management Plan developed by Allom Lovell & Associates July 2005 at the request of the Property Services Department Roman Catholic Trusts Corporation.
"Olrig is of local historical significance for its association with James Malcolm, a prominent local settler from the 1840's, after emigrating from Scotland in 1836. Malcolm was an associate of John Sinclair, of the Port Phillip Association pastoral company, and another local landholder. Malcolm also amassed considerable wealth in the mid-nineteenth century, reputedly being the largest individual sheep owner in Victoria in the early 1850's, and having extensive landholdings in addition to Olrig.  He was lauded for his industrious working of his landholdings, earning praise from fellow Presbyterians, including prominent churchman and politician, John Dunmore Lang (1799-1878).
Olrig is also significant as a remnant of Kinlochewe, once a thriving settlement of immigrant Scottish farmers which grew up around the property, with James Malcolm in a pivotal leadership role. Malcolm was behind the establishment of the settlement, which reputedly had a population of over 400 before it was destroyed by the catastrophic bush fire of February 1851. Later owners of Olrig included Malcolm's son, James William Malcolm, who ran the property from 1876 until the mid to late 1880s, and is likely to have been responsible for the construction of the existing homestead, to accommodate his growing family. During this time, Olrig was recorded in a series of sketches by Harold John Graham (1858- 1992).  These sketches are a very important aspect of the history of the property, and are a rare surviving historical document which provides evidence of Olrig in the early 1880s, including illustrations of both buildings and landscape elements. Other subsequent owners included Troward Underdow Harvey (from 1900), and Don Smith (from the 1950s), who made their mark in Olrig through instigating changes to the property, including the removal and introduction of buildings, and a gradual reduction of the landholdings. The latter is  typical of early farm properties on Melbourne's metropolitan fringe, in the context of encroachment of higher density residential development.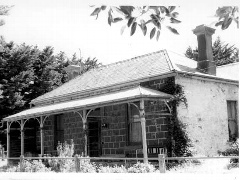 The main homestead or cottage, which is believed to date from the 1870s, is of local architectural /aesthetic significance, and is the only built structure at Olrig considered to be of architectural significance. The cottage is also the sole remaining building on the property dating from the nineteenth century. It is a comparatively intact example of local rock-faced stone construction, utilising a simple plan form and detailing, althoughits integrity is diminished by the removal of the front veranda, roof and the rear weatherboard annex …Aesthetically, the building is a typical example of the modest rural cottages constructed throughout Victoria in the nineteenth century. It is also one of the many simple, nineteenth century bluestone dwellings that survive in both the City of Hume and more broadly, in Melbourne's outer northern region."
Olrig Homestead has been restored internally and a veranda placed on the front to reflect its original appearance. Today the homestead provides a central space for a number of sustainability learning opportunities including a vegetable garden and kitchen space for cooking.  Mother Teresa Catholic Primary School is a member of the Stephanie Alexander Kitchen Garden National Program and is a Resource Smart School.
Further information related to this historical building is available by accessing the Craigieburn Historical Interest Group's website
Harold John Graham
As outlined in the work of Allom Lovell & Associates July 2005, a regular visitor to the Olrig Homestead was Harold John Graham an artist and friend of James William Malcolm. Graham spent time at the Homestead sketching and painting the homestead and surrounding flora and fauna.
Learners at Mother Teresa Catholic Primary School have been involved in a number of inquiries focussed on Harold John Graham. There investigations have led to the purchase of digital reproductions of a number of Harold John Graham's works from the National Library of Australia. A small collection of these digital reproductions are displayed in Olrig Homestead.  As artists a number of children have also reproduced some of Graham's works.
Further information related to Harold James Graham is available by accessing the Hume Councils website