"When we read the Bible, we are not only witnesses of the ongoing rewriting of the tradition, but we are also invited to discover new meanings to develop new interpretations in dialogue with the biblical text and the God of the Bible".    Pollefeyt & Bieringer, 2010
Possum Skin Cloak
The learning community of Mother Teresa primary school has been enriched through the presence of Bernadette
Atkinson, a Yorta, Yorta women. Bernadette a cultural educator and owner of Winyaar Creations taught a number of our year 5/6 children the art of making a possum skin cloak. Through her workshop learners had the time and opportunity to dialogue about the importance of the possum skin cloak.
Aboriginal people in the south- east part of Australia worn these cloaks in order to keep warm. The possum skin cloak was also used as a baby carrier, coverings at night, drums in ceremonies and for burial.  The cloaks were also incised and painted revealing the story and identity of the owner.
The possum skin cloak is worn today by Aboriginal peoples and particularly by elders during a smoking or welcoming ceremony.  Our friend and Wurundjeri elder, Murrundindi wears a possum skin cloak during welcoming ceremonies.
As a learning community we are honoured to have had the opportunity to make a cloak and to have had it presented officially by Murrundindi.
We accepted this possum skin cloak with great respect for our brother and Wurundjeri elder, Murrindindi.  As a Catholic school community, we asked his permission to wear this cloak as a recognition of Aboriginal peoples and as a sign of a sacred reading of the biblical text, which tells the story of Christian people, who believe in the dignity and sacredness of each person and of creation.
Our wearing of this possum skin cloak holds a significant place in our learning community.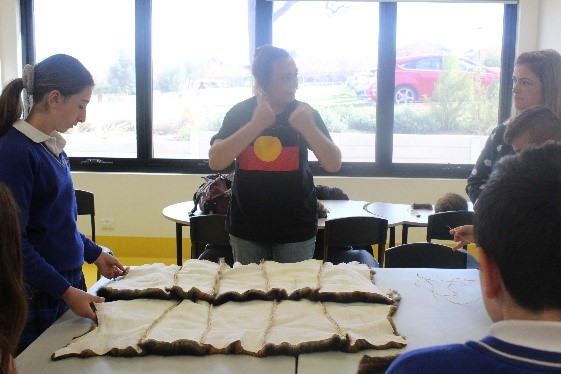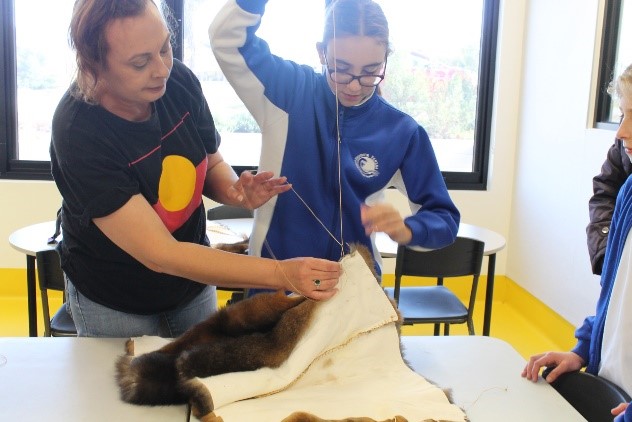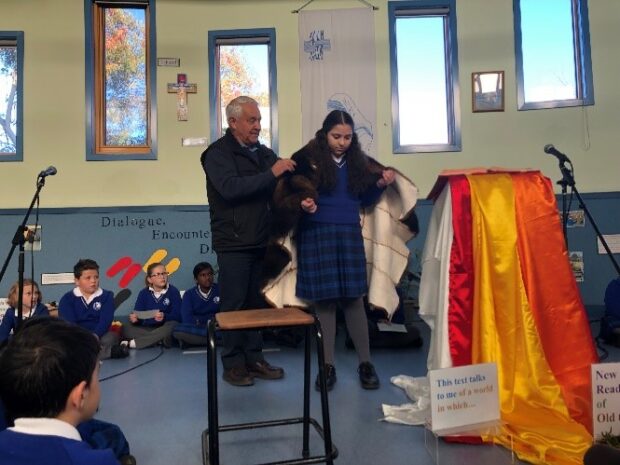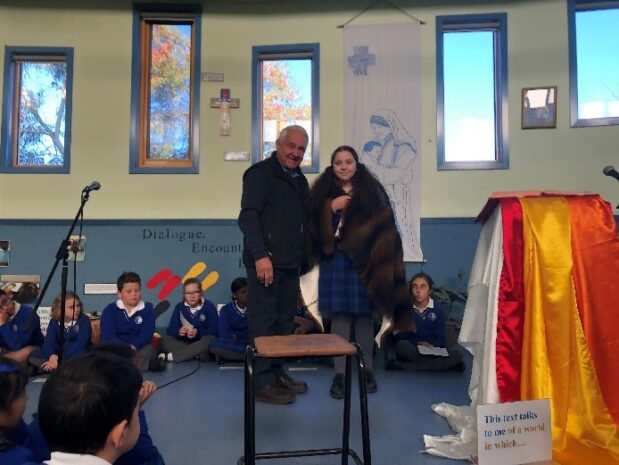 Message Stick
A message stick is a form of communication traditionally used by Indigenous Australians. It is usually a solid piece of wood, around 20–30cm in length, etched with angular lines and dots.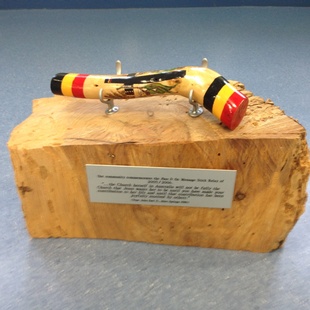 Traditionally, message sticks were passed between different clans and language groups to establish information and transmit messages. They were often used to invite neighbouring groups to corroborees, set-fights and ball games.
As a Catholic faith community the message stick has been placed in a new context for us; that is recontextualised.  Its original use has been enhanced within a faith context as it is now use it to recall our important faith messages.
The message stick at Mother Teresa Catholic Primary School was passed on to us by Vicki Clark from Aboriginal Catholic Ministry. Vicki is a Mutthi Mutthi/Wemba Wemba woman who established and ran the Aboriginal Catholic Ministry in Victoria for 25year until her retirement in 2015.
We hold the message stick each time we read the scriptures as we believe we are listening to important messages about our faith and how to live as 21st Century Catholics.