Mother Teresa Catholic Primary School acknowledges the original custodians of the land on which our school stands the Wurundjeri people. We thank the Elders for their care and protection of the land. We will carry on this tradition through our care for the environment.
As a learning community we are also committed to working together to create a culturally safe school for all Aboriginal and Torres Strait Islander children to learn and thrive.
As a learning community each time we gather we acknowledge the original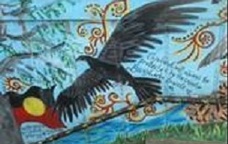 custodians of the land. Our learning community continues to explore the culture of the Indigenous and as part of who we are, celebrate and acknowledge significant days such as Proud Race, Sorry Day and National Reconciliation Week.  Our learning and acknowledgement is therefore recognition of the richness of this ancient culture and gratitude to Aboriginal peoples past and present for their care of this ancient land.
Message Stick
A message stick is a form of communication traditionally used by Indigenous Australians. It is usually a solid piece of wood, around 20–30cm in length, etched with angular lines and dots.
Traditionally, message sticks were passed between different clans and language groups to establish information and transmit messages. They were often used to invite neighbouring groups to corroborees, set-fights and ball games.
As a Catholic faith community the message stick has been placed in a new context for us; that is recontextualised.  Its original use has been enhanced within a faith context as it is now use it to recall our important faith messages.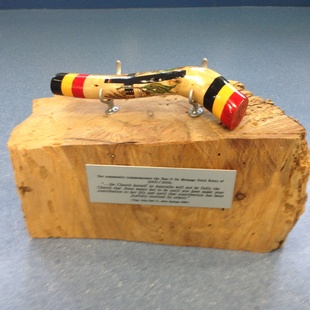 The message stick at Mother Teresa Catholic Primary School was passed on to us by Vicki Clark from Aboriginal Catholic Ministry. Vicki is a Mutthi Mutthi/Wemba Wemba woman who established and ran the Aboriginal Catholic Ministry in Victoria for 25year until her retirement in 2015.
We hold the message stick each time we read the scriptures as we believe we are listening to important messages about our faith and how to live as 21st Century Catholics.
Some of Vicki's work can be found on the Yarra Healing website.
Please visit external website: Vicki Clark
Aboriginal Bollards – Proud Race Initiative
Mother Teresa Catholic Primary School participated in the Proud Race initiative and created a number of life-sized Bollards to display on our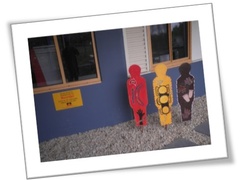 property. These bollards acknowledge and record the story of significant Indigenous Australians. These bollards can be seen at the entry of our school reception area and in other parts of our property. On a visit to our school we invite you to take a moment to view these Aboriginal Bollards.
Murrundindi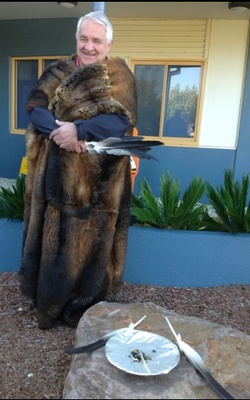 Murrundindi an elder of the Wurundjeri people entrusted our learning community with a number of Aboriginal artefacts.  These include the sacred fungus from the stringy bark tree, used in smoking ceremonies and the feathers of an eagle. These feathers remind us of Bunjil the Eagle, the Aboriginal creator spirit. As a learning community we hold these as special gifts.
We welcomed Murrundindi a direct descendant of the Wurundjeri people.  Murrundindi welcomed us to the land of his ancestors the Wurundjeri. He reminded us that it is his land and our land. Together we need to care for and respect the land.